No faking it: Colbert wants one of Trump's 'dishonest' media awards ...
No faking it: Colbert wants one of Trump's 'dishonest' media awards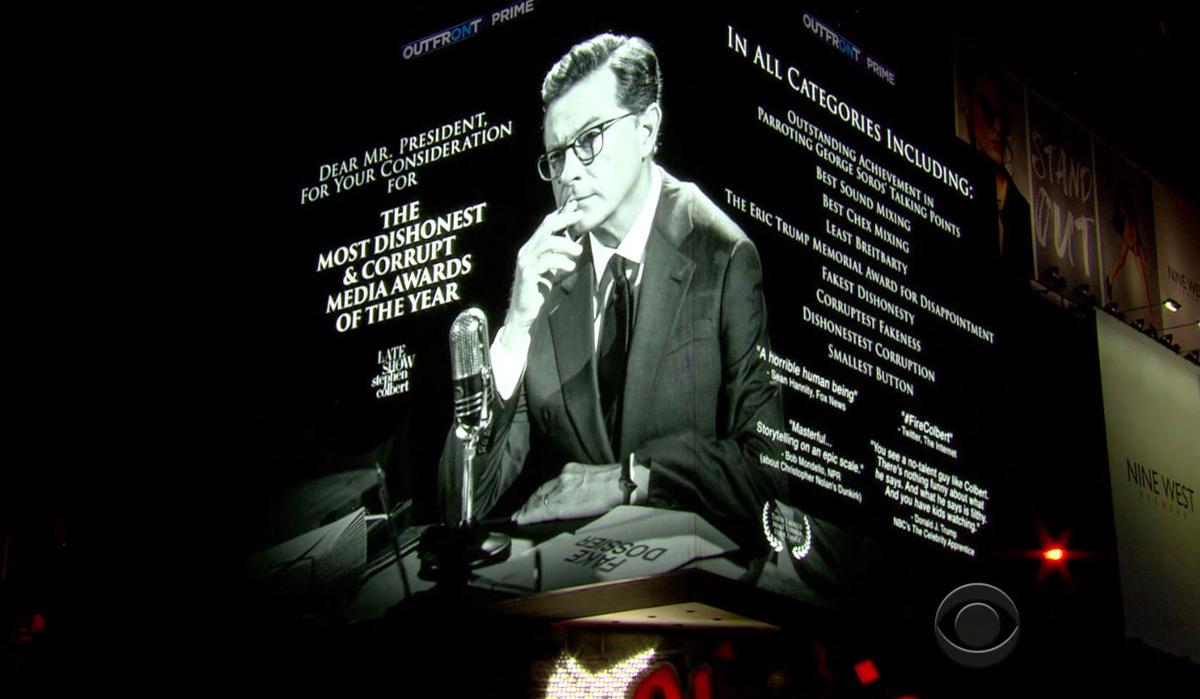 An ad on a digital billboard in Times Square makes "Late Show" host Stephen Colbert's plea to be considered for one of President Trump's "most dishonest and corrupt media awards." Image from video
In this March 31, 2017 photo released by CBS, host Stephen Colbert appears on "The Late Show with Stephen Colbert" in Ne w York. Colbert won in the Nielsen company's ratings for the ninth consecutive time last week, his margin of 400,000 viewers the widest lead since the CBS star overtook Fallon with a sharp concentration on politics. Fallon aired a rerun Friday, otherwise the shows were all fresh last week. (Richard Boeth/CBS via AP)
"You hate me, you r eally hate me."
That may well be Stephen Colbert's acceptance speech if President Donald Trump makes good on his promise (threat?) to hold an awards program recognizing excellence in the field of "fake news."
Trump tweeted about the idea Tuesday night, announcing plans to announce "THE MOST DISHONEST & CORRUPT MEDIA AWARDS OF THE YEAR" on Jan. 8.
Almost immediately, Colbert â€" Trump's longtime late-night nemesis â€" began a lobbying campaign.
"Personally, I'm excited for 'The Most Dishonest and Corrupt Media Awards of the Year,' or as we call them in the biz, 'The Fakies,'" Colbert said on his show Wednesday night. "Because nothing gives you more credibility than Donald Trump calling you a liar.
"And I, of course, don't want to get snubbed."
The CBS host rented space on a digital billboard in Times Square at 42nd Street and Eighth Avenue, asking Tru mp to consider him for numerous awards â€" including "Corruptest Fakeness" and "Least Breitbarty."
CBS spokeswoman Lauren Kamm said the "For Your Consideration ..." plea will appear on the billboard through the weekend, leading up to Trump's event Monday.
"See you on the red carpet, @AndersonCooper," Colbert tweeted, adding a custom hashtag: "#TheFakies."
White House press secretary Sarah Huckabee Sanders told reporters Wednesday to expect an actual awards show, but did not say whether it would be televised, or whether journalists would be invited.
"I certainly don't want to spoil anything, but my guess is that there are quite a few individuals that could be up for those awards," she said at a White House press briefing. "And beyond that, I think we'll have to see what happens on Monday."
Colbert wasn't the only late night host to skewer Trump over his awards idea. ABC's Jimmy Kimmel suggested a new name for the potential show: "The Stupid People's Choice Award."
"Will he be physically able to give a trophy to someone other than himself?" Kimmel asked about Trump.
Both hosts have targeted Trump in the past, but Colbert's persistently biting jokes and monologues have driven headlines throughout Trump's campaign and presidency.
It reached a fever pitch in May, when Colbert addressed Trump's cordial relationship with the Russian president: "The only thing your mouth is good for is being Vladimir Putin's (expletive) holster."
The comment drew enormous backlash on social media and among conservative personalities, launching a #FireColbert campaign that the host successfully weathered.
Colbert also drew the president's ire: Trump told Time magazine shortly after the Putin joke that "you see a no-talent guy like Colbert. There's nothing funny about what he says. And what he says is filthy. And you have kids watching. And it only builds up my base. It only helps me, people like him."
Colbert's response: "Mr. Trump, Mr. Trump. There's a lot you don't understand. But I never thought one of those things would be show business. Don't you know I've been trying for a year to get you to say my name?! And you were very restrained. Admirably restrained. But now you did it! I won."
Trump has employed the term "fake news" to discredit coverage over every aspect of his personal and presidential life, with CNN, the New York Times and the Washington Post his favorite targets.
While it may make good comedy fodder, attacks on the media have provided cover to oppressive governments motivated to keep journalists and their prying questions at bay.
"There is no such thing as Rohingya," said U Kyaw San Hla, a security ministry official in Myanmar, refer ring to the Muslim majority in the country Secretary of State Rex Tillerson warned was being ethnically cleansed. "It is fake news."
Source:
Google News US Entertainment
|
Netizen 24 United States