The bombers next door: how an Indonesian family turned into suicide attackers Indonesia The bombers next door: how an Indonesian f...
The bombers next door: how an Indonesian family turned into suicide attackers
Indonesia The bombers next door: how an Indonesian family turned into suicide attackers
A wave of extremist violence that unfolded in Surabaya this week had a troubling new element: bombings carried out by parents â€" and their children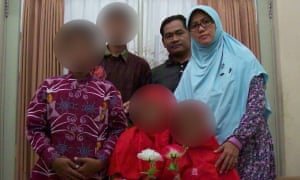 It was through food that the family of the Indonesian church bombers demonstrated neighbourly affection.
Families behind Indonesia bombings belonged to same religious study group Read more
Over the years, plates of fried bananas or steamed packages of rice stuffed with vegetables and chicken, were exchanged countless times over the fence. From their gardens in the Javan city of Surabaya, handfuls of moringa leaves or a few starfruit were passed over.
The afternoon before 42-year-old Puji strapped on a bomb-laden belt and walked toward the Indonesia Christian church in the city, she was again in the kitchen.
Wery Tri Kusuma and his wife last saw their next-door neighbour buying vegetables just hours before she blew herself up.
"My wife asked her what she was cooking," recalls Wery, "'Nothing special,' she replied, 'Just something for the kids.'"
It is these seemingly mundane moments that Wery has played over in his head since the news emerged that Puji and her husband, Dita Oepriarto,were terrorists who were willing to use their own children as suicide bombers.
How could she do this to her children?
On Sunday morning last week the couple and their four children carried out three attacks on churches in the city of Surabaya, in the worst terrorist strike Indonesia has seen in more than a decade.

After dropping off his wife and two daughters â€" Fadhila, 12, and Pamela Rizkita, nine â€" at the Indonesia Christian church, Dita drove a car bomb into the Central Pentecostal church, sending it up in flames.
At the same time their two so ns, Yusuf, 18, and Firman, 16, laden with explosives, rode a motorbike into their target, the Santa Maria Catholic church.
The attacks, carried out over half an hour, killed 18 people, including the bombers.
Residents of the middle-class Wisma Asri housing complexare struggling to reconcile the facts.
"I knew them every day for years. Puji was a nurse but she quit her job at the hospital because she felt nauseous at the sight of blood, and didn't like seeing people in pain. So how can it be that she did this to her children?" asks Wery.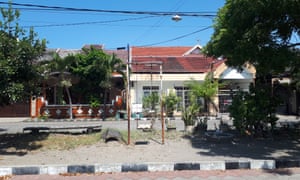 To his neighbours, Dita and his wife appeared normal. They were friendly and polite, reserved but involved in neighbourhood affairs. "Everyone was surprised," says neighbour Annie Dhani, "They were so far from the profiles of what you would think a terrorist would be."
In the afternoon their children would ride their bikes up the street, the youngest daughter would play on the swing.
Their father wore unremarkable clothes, jeans and T-shirts, nothing overtly Islamic, and ran a small business selling almond, sesame and caraway oil.
Nurul Ihsan, a tailor in Dita's old neighbourhood of Tembok Dukuh, remembers the bomber as pious but not radical. He does recall one telling detail th ough: when Dita held events no Christians or Hindus were ever invited.
Birth of a new tactic
The church bombings were the first in a wave of extremist violence that has wracked Indonesia this week, and marks a new jihadist phenomenon â€" whole families, including young children, working together to carry out suicide bombings.
It is the first time a suicide bombing has been carried out by an entire family in Indonesia, and this week it happened twice, in the space of about 24 hours.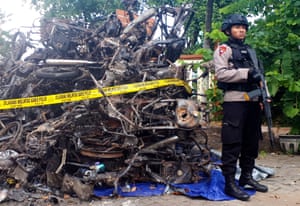 After the church strikes, a fami ly of five, Tri Murtiono and his wife, Tri Ernawati, and their three children rode two motorbikes into the Surabaya police headquarters where they detonated explosives. Everyone died except their daughter Ais, aged eight, who was seated between her parents but wasn't wearing a bomb herself in the attack on Monday.
Hours before, on Sunday evening, another bomb appears to have exploded prematurely in the Wonocolo apartments in Sidoarjo, in the home of Anton Febrianto, his wife Puspitasari and their children. In this case both parents and their 17-year-old daughter died. Three other children survived.
Police believe the three families were members of the pro-Isis Indonesian militant group Jamaah Anshurat Daulah (JAD) and met every Sunday for an Islamic study group where they watched extremist footage from Syria and Iraq that glorified violent jihad and martyrdom.
According to police, several children were homeschooled to limit their outside exposure.
The group was also influenced by the radical ideology of Kholid Abu Bakar, a former member of the militant group Jemaah Islamiyah, now with JAD, who police say mentored Dita and who remains at large.
None of the three families went to Syria but Bakar attempted to go early last year, although he was deported from Turkey en route.
The direct involvement of women and children in the Surabaya suicide bombings comes as a "natural development" in Indonesia's terrorism landscape, says Nava Nuraniyah an analyst from the Institute for Policy Analysis of Conflict (IPAC).

"It is shocking, yes, because it is the first time, but if you think about it we have had women suicide bombers and we've had children fighters in Syria, so now it is all those things combined."
In December 2016, an Indonesian woman planned to blow herself up at the presidential palace but was arrested a day before. A few months earlier, a convicted t errorist allowed his 12-year-old son Hatf to go to Syria with relatives. He died in combat alongside a French Isis unit, after which his father penned this eulogy: "Farewell, my little mujahid, Daddy and Mummy are proud of you."
The 'disease' of terrorism
Former terrorist Ali Fauzi says the the children involved in the Surabaya attacks were probably indoctrinated over time.
When I saw someone like you, a white woman, I would think: should I aim for the head or the chest?

Ali Fauzi, former terrorist
"There would be a process of shaping those attitudes over time. It's what I would call early radicalisation," says the brother of the Bali bombers. "I am 100% sure the family agreed on what they did, that there was no coercion or lying. The motive would not be worldly but ideological, that they were all in it together for the sake of paradise."
The reformed terrorist likens religious radical isation to a "disease". "I used to have it too," he says, over a plate of biryani, "When I saw someone like you, a white woman, I would think: should I aim for the head or the chest?"
Authorities believe JAD was behind the deadly attacks this week but is unclear who directed them. Some experts believe there could be a direct link to Isiswhile others say their actions were triggered by an extraordinary prison siege this month.
On 8 May more than 150 prisoners detained on terrorism charges rioted and seized control of three prison blocks in the maximum security Mako Brimob jail in West Java. Five police hostages were killed in the 40-hour standoff while a sixth officer was released alive.
Social media lit up with celebratory messages and calls for more attacks in the wake of the riot. Pictures later showing cuffed inmates being fed by police have also enraged extremists, who are said to want revenge.
In Tembok Dukuh village where he grew up, Di ta's old neighbours are still coming to terms with what happened. One of the churches that was bombed is less than two kilometres away.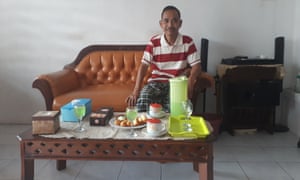 "Maybe he picked those churches because he knew them well," says Karyono, a retired teacher who has known Dita and his family for more than 40 years.
When Karyono saw Dita's face flash on TV on Sunday night he ran directly to the family home. They were a mess of tears.
But after a devastating few days there wa s a moment of deep altruism he says, when the village leader, a Christian man called Eric, accompanied the church bomber's parents to the police station to see about releasing the remains.
Karyono's eyes well up as he speaks: "It broke my heart that after everything that's happened, he was still willing to help."
Topics
Islamic State
Asia Pacific
features
Share on Facebook
Share on Twitter
Share via Email
Share on LinkedIn
Share on Pinterest
Share on Google+
Share on WhatsApp
Share on Messenger
Source:
Google News Indonesia
|
Netizen 24 Indonesia