A battle to save Indonesia's orangutans Asia ...
A battle to save Indonesia's orangutans
Asia Asia A battle to save Indonesia's orangutans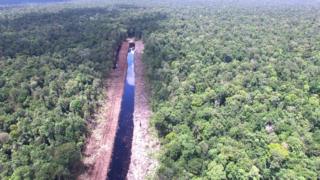 A deep peatland forest in Indonesian Borneo is home to one of the world's largest remaining populations of endangered orangutans, but as BBC Indonesian editor Rebecca Henschke reports, the habitat is under threat despite changes in law designed to protect it.
Borneo is one of the most bio-diverse places on the planet and has some of the world 39;s oldest forests.
In Ketapang, in West Kalimantan province, the light dances through the thick canopy. It's hard to see more than a few metres through the tangle of vines and branches.
But from the air, a canal 9km long can be seen cutting a scar into the thick green carpet of the forest.
It's the first part of a project by the Indonesian company PT Mohairson Pawan Khatulistiwa (MPK), which wants to develop the land as a logging plantation.
"We have attracted investors from Canada and China. They are building timber industries around this plantation such as pile wood, flooring and furniture," says the company's office director Hans Saputra.
The company was granted a logging licence for around 48,000 hectares back in 2008. Work to develop the land began here in 2013.
An environmental assessment report was commissioned to secure the licence, but it made no mention of orangutans nor of the other animals in the area.
Yet, between 800 and 1,000 critically endangered orangutans call this forest their home, according to a 2017 survey conducted by the state Natural Resources Conservation Centre (BKSDA) in partnership with international environmental groups.
That makes it the largest orangutan population living outside of a protected area in Indonesia, said the report.
If the logging goes ahead, they will lose their home.
International Animal Rescue (IAR) Indonesia runs a nearby rescue and rehabilitation centre, taking in homeless and orphaned orangutans.
"There is no way we can rescue over 1,000 orangutans," says the IAR 039;s national head, Karmele Llano Sanchez.
"So we are going to lose one of the most important orangutan populations we have left. With populations rapidly declining, every orangutan counts."
Lungs of the world
Deforestation accounts for one fifth of all carbon released into the atmosphere worldwide, according to Greenpeace.
But the land is valuable and, despite it being illegal in Indonesia, peatland is often cleared for agriculture by slash and burn practices. This has seen the country become the third-largest emitter of greenhouse gases.
The swampy floor is thick with decaying trees and rich organic matter metres deep in places. A dense, deep carbon sink.
"Forests like this control our climate," says Greenpeace forests campaigner Ratri Kusumohartono.
"When it's cleared or dried out it easily burns and releases huge amounts of carbon dioxide into the atmosphere."
In 2015 a longer dry season made the annual land-clearing fires catastrophic.
Across Indonesia, 2.6 million hectares were burned and an unhealthy haze blanketed the region for months. Schools and airports were closed and the World Bank estimated the fires caused losses up to $16bn (£12bn).
Amid a local and international outcry, President Joko Widodo brought in a change in law to try and prevent peatland from burning.
There were to be no new peatland forest conversions, even within existing concessions. Companies owning deep peatland could no longer cut down intact forest and put the land to industrial use.
That affected companies like PT Mohairson. In April last year, in a letter seen by the BBC, the ministry of environment and forestry ordered the company to "stop all operations" within a day.
And they were told to "fill in the canal" - which drains the peat swamp forest- within 20 days or "heavier penalties" would apply.
More than a year on, the canals have been blocked but not filled in and despite the change in law, some work is continuing. When the BBC visited the area in March this year, from the pu blic road we saw workers making the foundations of a building near the canal.
"If this is correct, this is a clear violation and we will investigate," said the director general of environmental damage control at the environment minister, Mr MR Karliansyah, when we showed him what we documented.
"The forest is virgin forest, that should be saved," he said while looking at the images.
"If they haven't started logging and the forest is still intact and under law it's now protected forest, it must be conserved, it cannot be touched."
He said he would send a team to investigate again.
When the law changed, some pr otections were put in place for companies. If more than 40% of the land they owned could suddenly no longer be legally developed, the law lets them swap it for another area not covered by the sanctions.
Mr Karliansyah said the government had already done such land swaps with companies in similar situations.
PT Mohairson's Han Saputra said it's not that simple.
"We don't want to sell, we will not swap it - we have already built industry that we need there."
The change of policy at the central government has left the company confused and frustrated, he said.
"Suddenly we were told to stop because of these new rules and we were told to shut it all down after we have invested so much," he said.
He insisted they have complied with the government sanctions by blocking the canal, and are drawing up new work plans at the moment to comply with the new regulations.
He said the workers we saw were making a storage room for their equipment.
Investment denied
While the government in Jakarta - more than 1,000km away - is promising to protect the peatlands, it's coming under pressure from local governments, worried about the economic impact of halting development.
The governor of West Kalimantan, in a letter to the president last year, asserted that restricting use of peatlands will threaten nearly 90,000 jobs and jeopardise billions of dollars of exports.
"This is a really bad precedent for the rule of law and investment in Indonesia," said a visibly angry Gusti Hardiansyah, the special adviser on climate change to the governor of West Kalimantan.
"Just because you want to save orangutans you want to sacrifice the local people in Indonesia. You cannot do that! We will protect our people first not just the environment."
But not everyone here wants this kind of investment.
"That's the only forest left in our area. We want that left for our grandchildren," said Ira Sahroni a local famer who lives close to where the canal has been dug out.
Widespread deforestation is already making it harder to get fresh water, he said, and has led to fires in the dry season and floods in the wet.
"We want the voice of the little people to be heard, we don't want big investors coming here and causing us to suffer just for the benefit of a few."
Greenpeace's Ratri Kusumohartono says the Ketapang project is a test case.
"The government needs to show that they are serious about protecting peatland and enforcing their own regulations to show they are serious about stopping the fires from coming back every year."
At the IAR rescue and rehabilitation centre in the area, staff were caring for those orangutans already suffering from the destruction of their forest home.
A group of babies were bro ught back to the centre after a day at "forest school", where they learn basic survival skills.
"They come from areas where the forest has been cleared or burnt," says Ms Sanchez.
"Once orangutans lose their habitat it's easy for them to be killed, so they have all lost their mothers."
"We try to mimic the same conditions that they would have had in the wild. It can take seven to eight years, the time they would have spent with their mothers."
The hope is that they can be released into the wild but unless the government enforces its own regulations to protect their habitat, their future looks bleak.
Top Stories
Trump threatens huge new tariffs on China
The threat escalates a tit-for-tat trade row with Beijing over US tariffs imposed on Chinese goods.
19 June 2018
'Not bad guys' - US teens playing border patrol
18 June 2018
Rapper XXXTentacion shot dead in Florida
19 June 2018
Features
US and Germany compared on immigration
How trying to stay cool could make the world even hotter
The untold good news story of America today
The Rolling Stones' rock'n'roll pilgrimage
How can a snake eat a human?
The troubled talent of murdered rap star XXXTentacion
Video
This Korea war veteran has question for Trump
BBC Travel: A country that doesn't want to be happy
Video
What makes Hereditary so scary?
Why you can trust BBC News
BBC News Services
On your mobile
On your connected tv
Get news alerts
Contact BBC News
Source:
Google News Indonesia
|
Netizen 24 Indonesia