Indonesia Demands Language Training for Foreign Workers JAKARTA, INDONESIA â€" An Indonesian presidential decree that requires all emp...
Indonesia Demands Language Training for Foreign Workers
JAKARTA, INDONESIA â€"
An Indonesian presidential decree that requires all employers to provide language training in Bahasa Indonesia to foreign workers elicited both criticism from the business community and doubt as to whether it will be enforced.
The language training requirement went into effect Friday.
It followed a 2013 order by Indonesia's Manpower Ministry that foreign workers be able to speak Bahasa Indonesia, which was rarely enforced. In 2014, President Joko "Jokowi" Widodo, who was elected in 2015 on a platform of economic growth and development, scrapped it. But then he seemingly reinstated it again this year with a presidential decree that, perhaps ironically, was designed to simplify the process of work permits and visas for foreigners.
Many in the business community decried the order, arguing it may deter foreign investment and prevent companies fr om hiring foreigners. The Manpower Ministry and president's office have both since backtracked on the potential stringency of the directive.
"It's not true that the [decree] makes it mandatory for foreign workers to be proficient in Bahasa Indonesia to be able to work in Indonesia," presidential spokesperson Johan Budi told the Indonesian outlet Viva this week.
"If a [foreign worker] can speak Indonesian, then the technology transfer process will run more optimally," a Manpower Ministry spokesperson told The Straits Times.
"Already they ar e already trying to minimize it," said Wayne Forrest, president of the American Indonesian Chamber of Commerce. "Anyway, in typical Indonesian fashion, there were no specifics ... if you read it carefully, there is no indication of a level of competency [with the language]."
Bahasa Indonesia, or Indonesian ("Bahasa" means "language"), is spoken by at least 156 million people and is the lingua franca of Indonesia. Most Indonesian communities are diglossic and speak both Indonesian (which is the language of government and mainstream media) and a local language such as Javanese or Sundanese. Indonesian was widely used among trade communities and championed in the anti-colonial independence movement to unite an archipelago of over 15,000 islands, as wide as the continental United States, and was declared the national language in 1945.
"Certain jobs may genuinely need some of sort transfer of knowledge," said Evan Laksmana, an an alyst at the Center for Strategic and International Studies in Jakarta, about potential motives for the language requirement. He said there's an expectation that businesses will pay more upfront to bring in skilled expatriates, "but if their skills can be somewhat transferred to locals, they reduce future costs by allowing, once the expats' contracts are up, locals to take the job."
Push-pull on globalization
Indonesia has had a fraught relationship with globalization, even under business-oriented Jokowi. Many of Indonesia's natural resources were signed away to foreign operators in the Suharto dictatorship, like Grasberg, the world's largest gold mine. Often before election years there is a renewed current of nationalism that manifests as protectionism â€" restricting international business to nominally protect domestic workers.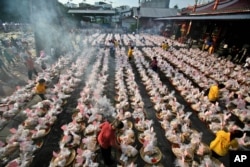 Laksmana also suggested the real target of the regulation was not expats in general but specifically Chinese labor, which has been a frequent target of suspicion in Indonesia. The ethnic Chinese population has long been the target of both actual violence (as in riots that killed 1,000 during the fall of Suharto in 1998) and legislation against cultural expression (as in giving their children Chinese names) and owning property (which remains the case in the district of Yogyakarta, where ethnic Chinese Indonesians cannot buy land).
"There's a real possibility th at foreign laborers coming to Indonesia create their own communities around their workplace ... [like] exclusively mainland Chinese communities in and around some of the resource extraction industries out of Java," he said. "Social unrest might be an issue in those areas. We tend to think of the decree as just affecting fancy expats in Jakarta. It's not."
Indonesia is also resisting allying too closely with China itself, the major power in the region, which has made predatory loans to many other Southeast Asian nations.
"For every push factor on globalization, there is a pull factor, too," Forrest said. "But at the end of the day, there have been foreign workers there for so long ... this decree will not change that."
Source:
Google News Indonesia
|
Netizen 24 Indonesia