Preaching against plastic: Indonesia's religious leaders join fight to cut waste Indonesia Preaching against plastic: Indonesi...
Preaching against plastic: Indonesia's religious leaders join fight to cut waste
Indonesia Preaching against plastic: Indonesia's religious leaders join fight to cut waste
Nation's two largest Islamic organisations will call on network of 100 million followers to reduce plastic waste and reuse bags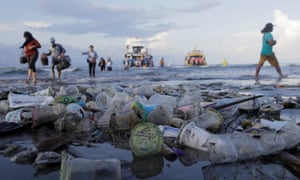 Indonesia, one of the world's biggest marine polluters, has decided to get religious â€" literally â€" about reducing plastic waste.
Antarctica: plasti c contamination reaches Earth's last wilderness Read more
The government has announced it will join forces with the country's two largest Islamic organisations, Nahdlatul Ulama (NU) and Muhammadiyah, using their extensive networks across the world's largest Muslim-majority nation to encourage consumers to reduce plastic waste and reuse their plastic bags.
Together the two Islamic institutions have more than 100 million followers.
As part of the initiative, religious leaders will visit prayer groups across the country to preach about the importance of reducing plastic waste, explain how plastic waste can worsen the severity of natural disasters such as floods and landslides, and encourage consumers to switch to traditional bags, made from materials such as rattan and bamboo.
Man begins six-month swim through 'Great Pacific garbage patch' Read more
"We have local wisdom about these things in Indonesia," Fitri Aryani, from NU's disaster mitigation and climate change agency, told the Guardian, "In the past we had more environmentally friendly practices and used traditional bags. We want people to return to that, to the times of their grandmothers when people would go out and not use so much plastic."
Environmental awareness and recycling programs, including teaching students how to make "eco-bricks" from discarded plastic, which have been run in several NU Islamic boarding schools in East Java for the past two years, will now be rolled out to the organisation's wider networks.
Globally, Indonesia is the second-largest contributor to marine plastic waste after China.
Indonesia currently uses a whopping 9.8bn plastic bags per year, many of which end up in the country's rivers and oceans, according to data from the Indonesian environment and forestry ministry.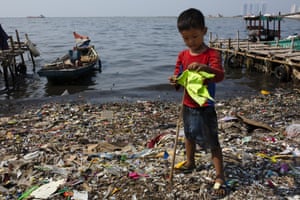 Indonesia has committed to cut its plastic waste by 70% by 2025.
NU last month introduced "Ngaji Sampah," or "Sermons on Waste."
The religious sermons are broadcast online once a month and use Islamic principles to promote sustainable consumption and environmental awareness.
Levels of awareness about recycling and the environmental damage wreaked by plastic are low in Indonesia, where plastic packaging is ubiquitous, and the practice of burning plastic waste is common.
A shocking video filmed earlier this year that showed a diver off Bali swimming through a deluge of rubbish caught the attention of the government, and has since been cited by the environment minister.
Rosa Vivien Ratnawati, director general for waste management at Indonesia's environment ministry said the government believes the declaration signed this week will have a widespread positive impact.
"These are the two biggest Islamic organisations in Indonesia, and they have structures that go down to the village level so this initiative to reduce plastic bag waste will impact all their members," said Ratnawati, "That is tens of millions of people throughout Indonesia."
Topics
Plastics
Asia Pacific
Islam
Religion
news
Share on Facebook
Share on Twitter
Share via Email
Share on LinkedIn
Share on Pinterest
Share on Google+
Share on WhatsApp
Share on Messenger
Source:
Google News Indonesia
|
Netizen 24 Indonesia