Australian student barred from Indonesia and 'blacklisted' by government Indonesia Australian student barred from Indonesi...
Australian student barred from Indonesia and 'blacklisted' by government
Indonesia Australian student barred from Indonesia and 'blacklisted' by government
Belinda Lopez, a former reporter, was on her way to the troubled province of Papua when she was turned back at Bali airport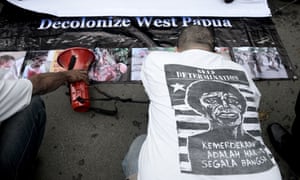 Indonesia has denied entry and will deport an Australian graduate student who was travelling via Ba li to Indonesia's easternmost province of Papua on holiday.
Gunmen kill three in Papua as tensions grow before election Read more
Belinda Lopez, a PhD candidate in Indonesian studies at Macquarie University in Australia, wrote on social media that she had been detained at Bali's Denpasar airport since midnight on Saturday and was told she was on a government blacklist.
Papua has suffered a simmering separatist conflict since it was incorporated into Indonesia after a widely criticised UN-backed referendum in 1969 and remains one of its poorest regions. Access to international media remains restricted.
Lopez, who was formerly a reporter in Jakarta, said on Facebook that she was on her honeymoon and had planned to visit the Baliem tourism festival in Papua.
But on arriving at Bali airport, she was denied entry by immigration and asked if she was a journalist and whether "she had done something wrong to Indonesia".
Lopez wrote she had previously been deported from Papua in 2016, after being suspected of being a reporter.
Immigration office spokesman Agung Sampurno denied Lopez was being deported on suspicions she was heading to Papua as a journalist.
"Belinda was barred from entering Indonesia on an immigration issue," he said.
However, he confirmed that Lopez was on an immigration blacklist.
Sampurno declined to provide an explanation for the immigration issue, noting it was Indonesia's sovereign right to deny entry to travellers.
Children living on Indonesia's coast get free goggles to enjoy - and save â€" precious reef Read more
Human Rights Watch researcher Andreas Harsono sai d Lopez's "case shows once again that the Indonesian authorities are still restricting foreign journalists, or anyone suspected [of doing] journalism, to enter Papua".
President Joko Widodo, after coming to power in 2014, pledged to ease media restrictions for Papua, but activists say journalists continue to be blocked when trying to report from there.
Topics
Share on Facebook
Share on Twitter
Share via Email
Share on LinkedIn
Share on Pinterest
Share on Google+
Share on WhatsApp
Share on Messenger
Source:
Google News Indonesia
|
Netizen 24 Indonesia