Australian universities to set up campuses in Indonesia under new free trade deal Indonesia Australian universities to set up camp...
Australian universities to set up campuses in Indonesia under new free trade deal
Indonesia Australian universities to set up campuses in Indonesia under new free trade deal
Treaty is expected to be ratified by Indonesian parliament next year, but nationalist opposition could present 'serious obstacles'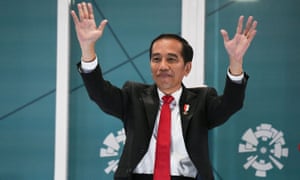 Australian universities are expected to get the green light to start setting up campuses in Indonesia under a new free trade deal.
Sco tt Morrison will make his first overseas trip as prime minister to Jakarta at the end of the week to announce, with Indonesian president Joko Widodo, that negotiations, first launched in 2010 and reactivated in 2016, have been finalised.
The trade deal is expected to be officially signed at trade minister level in September or October.
Australia is likely to ratify the deal by the end of the year but Indonesia's parliament is expected to approve it by mid next year.
A senior Indonesian government official said in the next three to five years he expects a dramatic uptick in the trade of goods and services while it could take longer for an investment bounce.
Australian student barred from Indonesia and 'blacklisted' by government Read more
"I think it's going to be a game changer," he told the Guardian Australia.
There is momentum building in Indonesia towards opening up its university sector to foreign institutions a nd Australian education providers are likely to get a head start under the deal.
"By inviting international universities to Indonesia they become much more accessible to a much larger number of Indonesians. We don't want an international education to only be available to the rich," he said.
He said other big winners included Australian luxury yacht builders as the archipelago pushes to expand its maritime tourism sector.
Under the deal import duties on Australian yachts and boats will be eliminated.
The news should keep shipyards happy in former trade minister Steve Ciobo's Gold Coast seat.
It will also be easier for Australian companies to provide training on boat maintenance and crewing.
Australia's cattle industry will also be pleased import quotas will be locked in for the first time.
"That will give stability and certainty to the annual flow of cattle imports, which will make Indonesian consumers very happy," he sai d.
The cattle issue was one of the last sticking points to be settled, during the final round of negotiations in Melbourne earlier this month.
There has been much angst in Indonesia over cattle imports since the Gillard government in 2011 temporarily banned the trade in response to footage of cruelty being aired on the ABC.
In 2015 Indonesia temporarily cut its import quota for Australian beef by 80%.
The deal will also increase the quota of working visas to Australia for Indonesians despite the fact the existing allocation is under used.
The government official doesn't expect any implementation problems from Indonesia's end.

Beware the red peril: Indonesia still fighting ghosts of communism Read more
However, Lowy Institute south east Asia expert Aaron Connelly, believes there could be some push back from nationalist forces in some quarters of the country.
He said it's possible vested interests in Indonesia which control some of the relevant bureaucracies could thwart reform attempts.
"Indonesians have this tremendous sense of economic vulnerability and have always wanted to achieve self sufficiency in pretty much everything but especially food," Connelly said.
"It would not be surprising that even if there were an agreement there would be serious obstacles to the implementation."
On the sidelines of meetings it's likely Morrison will attend an Asian Games sport event in Jakarta with the president.
Morrison must build rapport with his Indonesian counterpart and hope that any irritation has subsided over boat turn back policies from his time as immigration minister.
Indonesia was ropeable when it was emerged Australian border protection vessels "unintentionally" breached Indonesian maritime boundaries during asylum seeker boat turnback operations in late 2013 early 2014.
Relations deteriorated further after Guardian Australia revea led that Australian intelligence agencies had attempted to listen in on the personal phone calls of the then Indonesian president, Susilo Bambang Yudhoyono, his wife, senior ministers and confidants.
Topics
Asia Pacific
Scott Morrison
Australian universities
Australian education
news
Share on Facebook
Share on Twitter
Share via Email
Share on LinkedIn
Share on Pinterest
Share on Google+
Share on WhatsApp
Share on Messenger
Source:
Google News Indonesia
|
Netizen 24 Indo nesia