Jailed for abortion: the 15-year-old girl failed by Indonesia Women's rights and gender equality Global development Fail...
Jailed for abortion: the 15-year-old girl failed by Indonesia
Women's rights and gender equality Global development Failed by Indonesia: the girl, 15, raped by her brother and jailed for abortion
The grisly truth behind a baby's death has caused an outcry in a country where abortion laws take scant heed of circumstance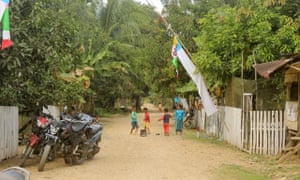 Fika* gave birth alone in her room at night. The baby came out alive.
According to her testimony, th e 15-year-old from Sumatra cut the umbilical cord with a razor and then the baby went limp and died. She held it up, but it didn't cry.
After that she wrapped the tiny body in a tablecloth and hid it under her bed, she told her lawyer. At dawn she buried it in a shallow grave next to a palm tree by her house.
The discovery of the dead child, who was found by a farmer in late May, prompted the arrest of Fika and has become something of a village horror story. But even worse were the details that followed.
Indonesia girl jailed for abortion after being raped by brother Read more
In the same wooden house in the village of Pulau, an isolated community in the Indonesian province of Jambi, Fika's grandmother wails.
"I want to kill him. I want to kill him," is all she can say, over and over, as she pounds the floor crying.
When the dead baby was found hidden in the foliage, the neighbours suspected it might be Fika's, but no one g uessed she had become pregnant after being repeatedly raped by her brother.
The grisly details of the case have shocked Indonesia, which came to light in July after Fika was jailed for six months for having an illegal abortion.
Her 17-year-old brother was sentenced to two years in prison for sexually assaulting a minor. Their mother, a single parent and rubber farmer, is being detained on suspicion of assisting her daughter with the abortion.
Abortion is illegal in Indonesia except in exceptional circumstances, such as when a woman is raped, and only then if it is carried out within the first 40 days. Forensic testing revealed Fika was seven months pregnant when she gave birth.
In a rare move, the court suspended Fika's prison sentence earlier this month in response to the outcry, and she has been moved from prison into the care of a child protection agency as the Jambi high court hears her appeal.
Her lawyer, Damai Idianto, expects the court to make a decision later this month.
Idianto says he hopes the teenager will soon be released. As more details are revealed, the case has exposed some uncomfortable truths and shone a light on the systemic prejudice against rape victims in Indonesia â€" from the level of the village to the judiciary.
'If she didn't report it she must not be a victim'
In the village the case was initially perceived as "incest" and some residents argued the siblings should be banned from returning based on adat, or customary l aw.
We have to make sure this does not happen again, to watch our children

Asri Yonalsah
Even after her brother told police he had raped his sister nine times since last September, and that he would beat her until she complied, the police failed to see the girl as a victim.
Instead, prosecutors focused their efforts on building a case against her for having an illegal abortion.
"They think, 'if she didn't report it then she must not be a victim'," says Helvi Rachmawati, from the consortium of women's NGOs in Jambi.
Some in the village are willing to go further, suggesting Fika was not raped.
"Maybe in the beginning she was forced into it," says Fika's ethics teacher, who preferred not to give her name. "But maybe she felt pleasure from it afterwards."
If she didn't enjoy it, the teacher asked, why didn't she say anything?
Mirna Novita Amir, a women's activis t and lawyer in Jambi, said a local judge â€" one not sitting on this case â€" voiced the same opinion in a private conversation.
Women's activists in Jambi say the reactions and handling of the case reveal a disturbing lack of awareness about rape victims.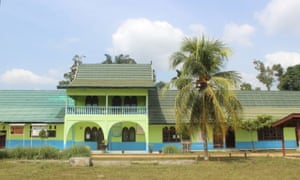 'We prefer not to talk about this anymore'
Fika's family home, a wooden house on stilts, is a three-hour drive from the city down a long bumpy road, past ambling goats, oil palm and rubber plantations, and then a 10-minute boat ride across a mud-coloured river to the village of Pulau. Its population: 1,800.
In Pulau the news has become a source of intense shame and guilt.
"We have to make sure this does not happen again, to watch our children," says district chief Asri Yonalsah, who was visiting the village for a measles vaccination drive.
However, it appears Fika's case might not be an isolated incident. According to women's activists in Jambi there have been five cases of "incest" reported in the province this year.
Some have also pointed a finger at shortfalls in the education system. Sex education is not a mandatory part of the Indonesia's national school curriculum and while about 40% of schools in Jambi city have some form of sex education, elsewhere in the province it is virtually non-existent.
It was at his Islamic boarding school that Fika's brother would watch pornographic videos with his friends on their mobile phones. He later told police the videos had prompted him to rape his sister.
Protests in Indonesia as girl raped by brother is jailed for abortion Read more
"They can watch this stuff freely but then they don't have any education about it," says Ida Zubaidah, from the NGO Beranda Perempuan.
When Zubaidah met the 17-year-old in prison in July, he claimed he had not fully understood the repercussions of his actions. "He was crying and he said he didn't know that he could get his sister pregnant. He told me he thought that could only happen if he had sex with a girlfriend," said Zubaidah.
Back at the school, Fika's teacher says they had no idea she was pregnant. Fika wore a long headscarf that covered her torso and they thought she was just putting on weight.
A quiet and introverted student, Fika did not appear unhappy, they say. At the end of term event in May she had been dancing.
After t he news of the case reached the school, teachers conducted raids, confiscating mobile phones and erasing pornographic videos they discovered. Smartphones have now been banned in class.
Teachers say the case has been devastating but they have no plans to introduce sex education. They prefer to refer to Islam, the dominant religion in the country, for guidance.
"For us who live in the village," says Fika's teacher, "it's still hard for us to talk about."
*The name of the girl involved in this story has been changed to protect her identity

Topics
Global development
Women's rights and gender equality
Indonesia
Asia Pacific
Abortion
features
Share on Facebook
Share on Twitter
Share via Email
Share on LinkedIn
Share on Pinterest
Share on Google+
Share on WhatsApp
Share on Messenger
Source:
Google News Indonesia
|
Netizen 24 Indonesia