Kindergarten dresses children as jihadists for parade in Indonesia Indonesia Kindergarten dresses children as jihadists for parade...
Kindergarten dresses children as jihadists for parade in Indonesia
Indonesia Kindergarten dresses children as jihadists for parade in Indonesia
Manager apologises for independence day march costumes and denies trying to 'instil violence' into children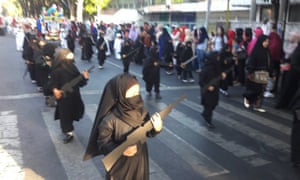 A kindergarten in Indonesian has been criticised for dressing girls up in black, Isis-style costumes and replica rifles for an independence day parade, with organisers forced to apologise for the embarrassing gaffe.
Photos of the "cultural" parade held in the city of Probolinggo, East Java, on Saturday showed lines of young girls marching on the street wearing niqab-style black veils, carrying cardboard cutouts of guns.
The head of the TK Kartika kindergarten in Probolinggo apologised "deeply" for the costumes, expressing regret over the decision and saying they were not trying to "instil violence" in the kindergarten children.
"We raised the theme of the struggle of the Prophet to increase faith and devotion to Allah," said kindergarten head Hartatik, when asked to explain the controversial attire.
The Probolinggo kindergarten is on the site of an Indonesian military complex, and Saturday's parade took place a day after independence day, which falls on 17 August, in the world's largest Muslim-majority nation.
Asked to explain why the kindergarten had chosen the costumes, Hartatik admitted they had pooled props from previous years to save money.
'Indonesia's horror': the girl, 15, raped by her brother and jailed for abortion Read more
"We used it to save funds," Hartatik told BBC Indonesia. "[We] never thought about the impact. The important thing is to take part in the parade, that the children were happy, using the existing property."
The kindergarten head did not offer any explanation as to why the jihadist-style costumes had been used in previous years.
Speaking at a media conference following uproar over the event, Probolinggo military commander, Lieutenant Colonel K av Depri Rio Saransi said the parade was purely to educate the students about the "struggle of Islam" but was not intended to promote religious radicalism.
"There is not the slightest bit of radicalism. I emphasise that purely there is no such thing as an element of intentionally showing the existence of radical activities," he said, before offering a further apology.
Images and videos of the parade went viral on social media in the country and hit the same day that Indonesia opened the 18th Asian Games in a spectacular ceremony in Jakarta, which celebrated the country's rich cultural diversity.
The Probolinggo parade is an embarrassing gaffe for Indonesia as it works to show its best face to the world through the huge sporting event involving 45 countries, the largest of its kind after the Olympics.
News of the Probolinggo parade has also reached the Indonesian parliament, with House speaker Bambang Soesatyo describing it as an "inappropriate spectacle".
"Ordering children to wear black veiled costumes and carry replica weapons gives a poor perception," he said, "Treatment like that could damage children's ideas."
Topics
Share on Facebook
Share on Twitter
Share via Email
Share on LinkedIn
Share on Pinterest
Share on Google+
Share on WhatsApp
Share on Messenger
Source:
Google News Indonesia
|
Netizen 24 Indonesia