Lombok Earthquake Rattles Indonesia Tourism JAKARTA â€" More than 156,000 people remain displaced after a magnitude 6.9 earthquake str...
Lombok Earthquake Rattles Indonesia Tourism
JAKARTA â€"
More than 156,000 people remain displaced after a magnitude 6.9 earthquake struck the Indonesian island of Lombok on Sunday night, where the local economy is heavily dependent on tourism. It was one of three major quakes to rock the island in less than two weeks, producing more than 350 aftershocks and flattening large portions of the island.
Neighboring Bali, the most popular destination in Indonesia and one of the places in Asia most visited by tourists, saw at least two deaths due to the earthquake on Sunday. But it is unlikely to see any considerable damage to its tourism industry. Experts are warning, however, that the less developed, Muslim-majority Lombok will see a sharp decline in visitor numbers for the foreseeable future.
Striking in the middle of Lombok's high tourist season, thousands of foreigners were promptly evacuated in the wake of Sunday's earthquake. Britain an d Australia are among numerous embassies that have already issued "do not travel" warnings for Lombok.
Already grappling with a difficult search and rescue effort after Sunday's disaster, humanitarian assistance to the people of Lombok was further complicated when yet another strong quake hit the north at lunchtime on Thursday. According to the U.S. Geological Survey, it had a magnitude of 5.9, and produced further damage across the island.
Traumatized
Indonesia's disaster management agency said this week that the death toll had risen to 259 as search efforts continued, while at least 1,400 have been seriously injured, the vast majority of whom are Indonesian nationals. Zul Hakim, an editor with the Lombok Post newspaper, told VOA Thursday's quake was felt much more strongly in the island's capital, Mataram, than the tremor on Sunday.
"Almost all the residents from areas near the epicenter of the earthquakes that have come to Mataram are too afraid to return home. Most are still living in refugee camps," he said. "The community is traumatized." The International Red Cross says an estimated 600,000 people have been affected.
Indonesia is highly disaster prone, partly because it sits on the so-called "Pacific Ring of Fire," a string of volcanos where some 90 percent of the world's earthquakes occur. A tsunami in 2004 devastated parts of the Indonesian island of Sumatra and killed more than 160,000 people, while a violent eruption of Mount Merapi near the Javanese city of Jogjakarta in 2010 saw hundreds killed and almost 40 0,000 evacuated.
According to Mari Elka Pangestu, Indonesia's former tourism minister and an economics lecturer at the University of Indonesia, the impact on tourism from the latest earthquakes will be confined only to Lombok. "Lombok is part of Indonesia but the rest of Indonesia is fine. You have to make that distinction," she told the Voice of America.
"Just assessing the damaging and making the recovery. That will take time. I think in the case of Jogja[karta] it took six months to a year just to make the physical recovery. But again, Lombok is big right? There are other parts of Lombok as you do this recovery that will still be okay."
While there was some superficial damage to the inside of Lombok and Bali's respective airports, no damage was done to the runway, meaning there have been no disturbances to flights. From Monday to Thursday , Lombok International Airport operated 24 hours a day to facilitate additional flights off the island and rescuers arriving with supplies.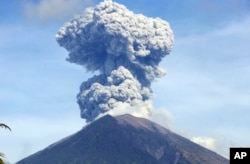 Despite the ongoing threat of Bali's Mount Agung erupting throughout 2017 and into early 2018, Indonesia still saw more than 14 million tourist arrivals last year according to the nation's Central Statistics Agency â€" some 3.5 million more than the prior year.
Nevertheless, the Lombok disaster will be a major blow to the Indonesian government's vision to develop the tourism sector. Lombok was last year identified as one of the "10 new Balis" in President Joko "Jokowi" Widodo's strategy to encourage tourists to venture beyond Bali along with Lake Toba in Sumatra and Labuan Bajo near the Komodo National Park. Just last month, the Asian Games torch relay ran through Lombok as a means to promote it as a destination to foreigners.
Britta Slippens, a German national who has lived in Indonesia for two decades and owns a luxury eco resort in the devastated north, said she had seen exponential tourism development in Lombok since establishing her business there in 2011. Back then, the popular Gili islands were "empty," she said. In contrast, some 5,000 tourists were evacuated from there earlier this week.
Slippens said she had essentially "given up" on her business in Lombok. The huts on her property were built in dome sh apes and were undamaged by the disaster, with some 1000 villagers from the local community whose homes were destroyed continuing to sleep under the stars on her property.
"I already forgot business," she added. "I think I will need to focus on getting help for the village. I can't rent a luxury villa out in a place like that."
Source:
Google News Indonesia
|
Netizen 24 Indonesia