AFC U16 Championship Roundup: Wins for Oman, Indonesia and India 01:06 Abi Yazid There were wins for Oman, Indonesi...
AFC U16 Championship Roundup: Wins for Oman, Indonesia and India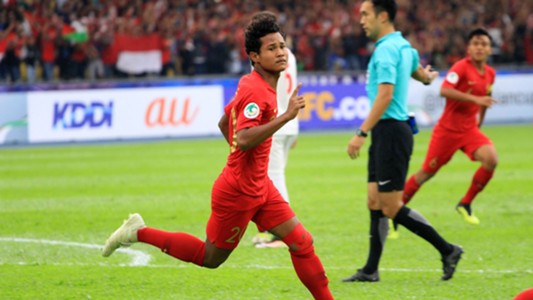 Abi Yazid There were wins for Oman, Indonesia and India while DPR Korea were held by Jordan...
The AFC U-16 championship saw just one stalemate out of the four games played on Friday. Oman, Indonesia and India started their campaigns with a win while DPR Korea and Jordan played out a lively 2-2 draw. Here is a summary of what transpired on the second day of matchday one.
GROUP B:
Editors' Picks
Why Salah's 'poor form' is good news for Liverpool
With Zidane and Ronaldo gone, this could be Bal e's greatest ever season for Real Madrid
Sloppy Man City with lessons to learn in quest to win Champions League
Ronaldo's red card a reminder Cristiano can be as petulant as he is prolific
1) Oman 2-0 Yemen (Qusai Salim Khamis Al-Jaradi 14', 36')
In what started off as an end to end game, it was Oman who came out on top in this exciting clash. Qusai's first-half brace was sufficient for Oman to register a win in their opener of the AFC U-16 tournament. For his first, Qusai had to slide the ball in after an excellent lobbed pass over Yemen's defence from Al Azhar Hamza Al Balushi in the 14th minute.
Qusai's shot deflected to the right side of the woodwork after striking it. Omani pressure cracked the Yemen defence in the 35th minute as Fahad Said Al Rasbi's pinpoint cross into the box found Qusai's head who doubled his tally for the night.
Oman play Jordan next and Yemen will have to overcome two-time champions DPR Korea to secure their first win. The games will be played on Monday.
2) DPR Korea 2-2 Jordan (Kim Kang Song 20', 45' | Mohannad Jehad Ahmad Semreen 31', Amer Rasem Adel Jamous 75')
Jordan came from behind twice in what was an engaging affair between the east and west Asian countries. DPR Korea took the lead in the 20th minute through Kang-Song's well-placed strike from near the penalty spot. Jordan responded well to the deficit and were rewarded with a goal in the 31st minute.
Rashed Ibrahim Alhanahneh's perfectly weighted through-ball found Mohannad Jehad Ahmad Semreen in space. The forward was too fast for DPR Korean captain Pak Ryong-gwon and an incredible right foot shot saw the ball at the back of the net. Kang-Song beat two defenders and finished from a tight angle to give Korea the lead for the second time just before half-time.
Jordan's persistence bo re fruit as Amer Rasem Jamous finished from close range in the 75th minute. A draw seemed like a fair result in this fairly contested game.
GROUP C:
1) IR Iran 0-2 Indonesia (Amiruddin Bagus Kahfi Afikri 4', Amiruddin Bagas Kaffa Arrizqi 90')
Indonesia earned a hard-fought win against IR Iran in what was a test of resilience for both the goalkeepers. Mochammad Supridi's squared pass found Amiruddin Bagus Alfikri and a simple finish from the forward put Indonesia ahead in the fourth minute. Iran came close to scoring several times but Indonesia's custodian Ernando Ari Sutaryadi held them off.
Hossein Shaverdi almost earned his nation a point through a curling free-kick in the 85th minute but Amiruddin Bagas Arrizqi's effort in the 90th minute sealed a crucial win for Indonesia in their opening fixture.
2) Vietnam 0-1 India (Vikram Pratap Singh 86')
India continued a successful unbeaten qualifiers campaign with a win in their opening fixture in the AFC U-16 tournament. The game looked like it could go either way from the word go. Vietnam started the game strong but failed to threaten the Indian defence.
Both the teams pressed and tried to keep possession in the second half. India looked more dangerous pushing forward but failed to break the deadlock. It was in the 86th minute that India finally took the lead through a Vikram Pratap spot kick.
The captain was brought down in the box by Dang Tuan Phong. Vikram then sent the keeper the wrong way to give India a well-deserved win. India take on Iran next as Vietnam look to open their account against Indonesia.
Source:
Google News Indonesia
|
Netizen 24 Indonesia