Indonesia Tsunami Toll Tops 800 Amid Search for Survivors WATCH LIVE 2018 Ryder Cup From Albatros Course of Le Golf National in Saint-Quenti...
Indonesia Tsunami Toll Tops 800 Amid Search for Survivors
WATCH LIVE
2018 Ryder Cup
From Albatros Course of Le Golf National in Saint-Quentin-en-Yvelines, France.
NEWSLETTERS
Receive the latest national-international updates in your inbox
Privacy policy | More Newsletters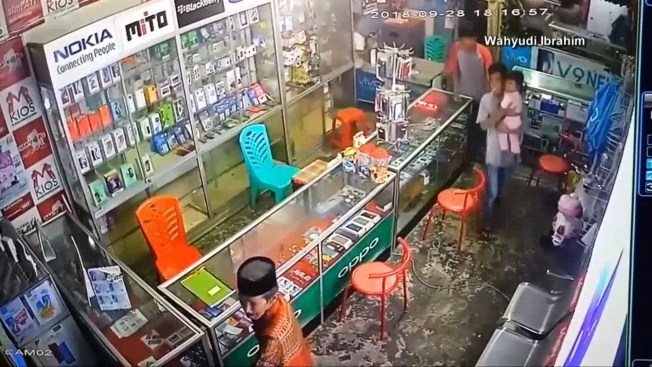 What to Know
Two earthquakes hit S ulawesi in Indonesia on Friday morning

The first earthquake, which came in at a 6.1 magnitude, killed at least one person

A second, 7.5 magnitude earthquake led to a tsunami that rushed water over Sulawesi
Rescuers in Indonesia were scrambling Sunday to reach trapped victims screaming for help from collapsed buildings, while looters risked entering an unstable shopping mall to grab whatever they could find after a massive earthquake spawned a tsunami that left more than 800 dead.
People could still be heard calling out from the eight-story Roa-Roa Hotel which toppled as Friday's twin disasters swept through the hard-hit city of Palu on the island of Sulawesi, said Muhammad Syaugi, the head of Indonesia's search and rescue agency.
"I can still hear the voices of the survivors screaming for help while inspecting the compound," he told local online news portal Detik.com, adding there could be 50 people t rapped inside.
Disaster agency spokesman Sutopo Purwo Nugroho told a news conference Sunday that the death toll had more than doubled to 832, with nearly all of those killed in Palu. He said there were still not comprehensive reports about casualties in surrounding coastal areas.
Top News Photos: Kavanaugh Hearing
"The death is believed to be still increasing since many bodies were still under the wreckage, while many have not been reached," he said.
Aid and supplies were being sent in via military and commercial aircraft, including helicopters, to reach badly affected areas.
The nearby cities of Donggala, the site closest to the earthquake's epicenter, and Mamuju were also ravaged, but little information was available due to damaged roads and disrupte d telecommunications. Footage from MetroTV on Sunday showed images of destroyed houses in Donggala and areas that were once land now inundated with water. Aerial video also showed the battered coastline surrounding Palu.
SEC Settles Fraud Charges With Tesla's Elon Musk
Looters were stealing Sunday from a badly damaged mall in Palu that was not being guarded. They did not appear to be concerned about their safety, despite ongoing aftershocks and the structure's questionable stability. Residents were also seen returning to their destroyed homes, picking through waterlogged belongings, trying to salvage anything they could find.
Nugroho said "tens to hundreds" of people were taking part in a beach festival in Palu when the tsunami struck at dusk on Friday. Their fate was unknown.
Hundreds of people were injured and hospitals, damaged by the magnitude 7.5 quake, were overwhelmed.
UpdatedTeen, 13, Attacked by Shark Off Southern California Coast
Indonesian President Joko "Jokowi" Widodo was set to visit the area later Sunday.
Some of the injured, including Dwi Haris, who suffered a broken back and shoulder, rested outside Palu's Army Hospital, where patients were being treated outdoors due to continuing strong aftershocks. Tears filled his eyes as he recounted feeling the violent earthquake shake the fifth-floor hotel room he shared with his wife and daughter.
"There was no time to save ourselves. I was squeezed into the ruins of the wall, I think," said Haris, adding that his family was in town for a wedding. "I heard my wife cry for help, but then silence. I don't know what happened to her and my child. I hope they are safe."
2 Mississippi Officers Die in Shooting; Suspect in Custody
It's the latest natural disaster to hit Indonesia, which is frequently struck by earthquakes, volcan ic eruptions and tsunamis because of its location on the "Ring of Fire," an arc of volcanoes and fault lines in the Pacific Basin. In December 2004, a massive magnitude 9.1 earthquake off Sumatra island in western Indonesia triggered a tsunami that killed 230,000 people in a dozen countries. Last month, a powerful quake on the island of Lombok killed 505 people.
Palu, which has more than 380,000 people, was strewn with debris from the earthquake and tsunami. A mosque heavily damaged by the quake was half submerged and a shopping mall was reduced to a crumpled hulk. A large bridge with yellow arches had collapsed. Bodies lay partially covered by tarpaulins and a man carried a dead child through the wreckage.
The city is built around a narrow bay that apparently magnified the force of the tsunami waters as they raced into the tight inlet.
Facebook Says 50 Million Accounts Potentially Compromised
Indonesian TV showed dramatic smartp hone video of a powerful wave hitting Palu, with people screaming and running in fear. The water smashed into buildings and the mosque.
Nina, a 23-year-old woman who goes by one name, was working at a laundry service shop not far from the beach when the quake hit. She said the quake destroyed her workplace, but she managed to escape and quickly went home to get her mother and younger brother.
"We tried to find shelter, but then I heard people shouting, 'Water! Water!'" she recalled, crying. "The three of us ran, but got separated. Now I don't know where my mother and brother are. I don't know how to get information. I don't know what to do."
Man Acquitted in Pregnant Woman's Slaying in North Dakota
The earthquake left mangled buildings with collapsed awnings and rebar sticking out of concrete like antennae. Roads were buckled and cracked. The tsunami created even more destruction.
&qu ot;We got a report over the phone saying that there was a guy who climbed a tree up to 6 meters high," said Nugroho, the disaster agency spokesman.
Communications with the area were difficult because power and telecommunications were cut, hampering search and rescue efforts. Most people slept outdoors, fearing strong aftershocks.
Woman Raped by Stranger on Her Own Front Lawn in NY: Cops
"We hope there will be international satellites crossing over Indonesia that can capture images and provide them to us so we can use the images to prepare humanitarian aid," Nugroho said.
Indonesia is a vast archipelago of more than 17,000 islands that's home to 260 million people. Roads and infrastructure are poor in many areas, making access difficult in the best of conditions.
The disaster agency has said that essential aircraft can land at Palu's airport, though AirNav, which oversees aircraft navigation, said the runway w as cracked and the control tower damaged.
Sexual Assault Testimony May Trigger Victim Trauma
AirNav said one of its air traffic controllers, aged 21, died in the quake after staying in the tower to ensure a flight he'd just cleared for departure got airborne safely. It did.
More than half of the 560 inmates in a Palu prison fled after its walls collapsed during the quake, said its warden, Adhi Yan Ricoh.
"It was very hard for the security guards to stop the inmates from running away as they were so panicked and had to save themselves too," he told state news agency Antara.
CBS Subpoenaed by Manhattan District Attorney on Moonves
Ricoh said there was no immediate plan to search for the inmates because the prison staff and police were consumed with the search and rescue effort.
"Don't even think to find the inmates. We don't even have time yet to report this incident to our superiors," he said.
United Nations spokesman Stephane Dujarric said U.N. officials were in contact with Indonesian authorities and "stand ready to provide support as required."
After 6-Year-Old's Body Found, Search for Clues Continues
Sulawesi has a history of religious tensions between Muslims and Christians, with violent riots erupting in the town of Poso, not far from Palu, two decades ago. Indonesia is the world's most populous Muslim country.
Copyright Associated Press
Source:
Google News Indonesia
|
Netizen 24 Indones ia