From MeToo to deforestation: Indonesian writers on their country's biggest challenges Festivals From MeToo to deforestation: I...
From MeToo to deforestation: Indonesian writers on their country's biggest challenges
Festivals From MeToo to deforestation: Indonesian writers on their country's biggest challenges
Ubud's annual writers festival attracts global speakers but it also gives Indonesian thinkers access to a worldwide audience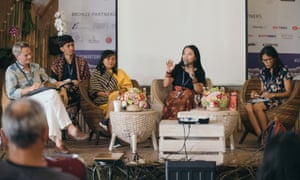 The 15th Ubud Writers and Readers festival wrapped up on Sunday, after five days of panels featuring more than 150 speakers. Established by Ubud businesswoman a nd writer Janet DeNeefe to invigorate the economy after the devastating Bali bombings, the festival has grown to be a vibrant cultural event.
This year's festival featured a number of prominent international writers, such as Hanif Kureshi and Geoff Dyer, but it was Indonesian voices that provided some of the most compelling stories. Guardian Australia spoke to four young Indonesian writers and activists at the festival about their perspectives on some of the most urgent global issues.
The days of writers being part of the jet set are over. Except at Ubud | Brigid Delaney's diary Read more
'My generation is fighting for the recognition of sexual violence'
Saras Dewi â€" poet, academic and activist
There's been a spike in reports of sexual violence in Indonesia. The most recent figures show 348,000 complaints were made last year. Not all women in Indonesia have the power to report, so we have to imagin e a larger amount of violence.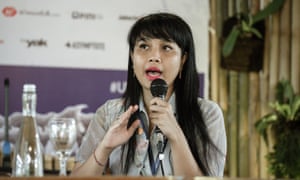 The largest amount of violence occurs in the private sphere â€" in courtship and marriage. In Bali, divorce is considered very shameful for women. A lot of this is from a religious perspective, so if you get divorced, you won't get to heaven. As a result, the numbers for divorce are very low.
There is a law against domestic violence. We fought for it for 12 years

Saras Dewi
There was a recent case of domestic violence in Bali that was very shocking . A woman's feet were cut off by her husband who accused her of cheating. [The woman, a domestic worker for an Australian family in Canggu, told the Daily Mail: He came in a little drunk and angry at me. He hit me and then took a machete [to] my legs in bed.'] That happens a lot in Indonesia.
There is a law against domestic violence. We fought for it for 12 years. My generation is fighting for the recognition of sexual violence.
Our legal system is very male and very patriarchal. If you are making a complaint about sexual violence you have to go to a male policeman and go before a male judge. They say "what were you wearing? Why were you out at night?'" So people are not opting to go public. There are changes happening to laws, but they are not happening systematically.
After 20 years of celebrating our freedom in Indonesia, we need to explore equal rights for men and women. There's a gender pay gap in Indonesia and there's also a lot of discrimina tion and harassment of women that are pregnant. Women must dress in a certain way and while birth control is legal, abortion is not. I think our culture is the single biggest issue right now. How men â€" and women â€" view women and how a woman's body is the social body. It's not her own. When you are a child, you are your father's daughter, then you are your husband's wife.
People say I am angry all the time. And I am angry. I am angry and stubborn.
'Violence against queer individuals starts at home'
Norman Erikson Pasaribu â€" writer and poet
In Indonesia, being queer is often said to be unnatural, to be westernised, or to be un-Indonesian. However, pre-colonial Indonesia is actually more inclusive in terms of sexual and gender diversity. One example is the Bugis society that acknowledges five genders. Sadly, most Indonesians have ignored and even maybe forgotten [since] the impacts of European colonialism on our society.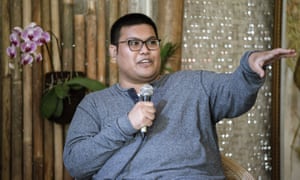 The Family Love Alliance (Aila) is a conservative, family-values group in Indonesia that have been pushing for homosexual criminalisation [currently, in most regions of Indonesia, the law is silent on this]. The constitutional court of Indonesia rejected their proposal in December 2017. It's a small win, but we are still pretty much unsafe. It turns out some people in legislative bodies have been trying to criminalise sex outside marriage, including same-sex couples [who can't get married in Indonesia] via the revision draft of the criminal code.
There's also an issue of privilege. I once read about a gay from a privileged background who said that there's no violence against LGBTQ+ in Jakarta. If it's not visible to you, that doesn't mean it won't happen to anyone else. Much violence against queer individuals starts at home, from the beating of effeminate boys, or sending them to pesantren [Islamic boarding schools], or even "corrective rape" of queer women, by forcing them into a marriage.
Silence is never a support

Norman Erikson Pasaribu
The most disappointing part about this is some people who would label themselves as "straight allies" do not speak up when the queer communities in Indonesia are put under fire. They only speak when it is convenient for them and stay silent when things can put them in an uncomfortable position. Support can go in many ways and forms, but silence is never a support.
'They treat us like drug addicts'
Doni Marmer â€" environmentalist, poet, LGBT community member
The LGBT issue has become intertwined with religion. Every fight for rights is concerned with religious issues and when straight friends say they have a problem with LGBT, they say it's because of their religion. They say they can't accept us.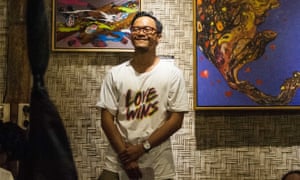 In this past decade, there has been a campaign to criminalise gay people from religious groups. T he problem is right now, say, in West Java, your neighbour can call the police and say "there are two men next door and they are having gay sex", and get them arrested. The evidence might be a condom they find. So then there is an incentive not to practice safe sex.
The governor of Cirebon is trying to set up an institution for gay conversion therapy. They treat us like drug addicts. The media is also at fault. If a gay spa gets raided, they will print photos of people naked, no censoring their faces.
'Industrialisation hit us hard'
Indonesia is primarily an agricultural country but industrialisation hit us hard because nothing is centralised. Trying to educate people about climate change is very hard. We have 81,000 km of coastline, with 80% of Indonesian people living in coastal areas. A rising sea level is becoming our biggest threat. Species extinction in Indonesia is also an issue â€" a lot of animals are in danger because of illegal logging and e xcessive use of fertilisers.
Environmental protection initiatives mostly use imported narratives, designs and thinking

Doni Marmer
The best solution to conserve our environment is actually to … work with [people], helping them to help themselves is one of the most sustainable ways of preserving the earth. Unfortunately, most environmental protection programs offered by many are only touching small pieces, and sometimes unable to include local or indigenous communities. By engaging closely with their lives, livelihood, culture, and developing their knowledge, I'm sure we can do better in protecting the earth.
In Indonesia, environmental protection initiatives mostly use imported narratives, designs and thinking, but neglect local wisdom … within the community most connected with the protected area.
'My people in Kalimantan are breathing in polluted air'
Emmanuela Shinta â€" Dayak acti vist, filmmaker and environmentalist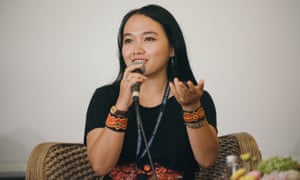 There are two great environmental challenges facing Indonesians right now: palm oil expansion, which causes rapid deforestation; and forest fire. The two are related to each other. Forest fires have been happening in the province of Kalimantan since 1997. The policy to clear 1m hectares of peat land by [former president] Suharto has really changed the face of Kalimantan, once dubbed as the lungs of the world.
Carbon emissions re leased by forest and peat fire in 2015 in Kalimantan exceeded the carbon emissions from the entire EU economy in the same period. More than 1.5m hectares of forest is lost in the region every year. The fires keep coming back every year, and even now, my people in Kalimantan are breathing in polluted air and the local firefighters are working hard to extinguish hotspots.
Indonesians fight for more 'smelly money' to bear life near Jakarta's landfill mountain Read more
Kalimantan has lost at least 30% of its rainforests since the 1970s and between 60% and 90% of orangutan habitat is gone. Indonesia is the biggest producer of palm oil in the world with most companies operating in Kalimantan and Sumatra.
We need to involve indigenous people in the solutions to environmental problems. The Dayak people are the first people of Kalimantan, and indigenous people have been guardians of the forest for thousands of years. Now we are too busy with techn ology to fix what we have broken, and forget that we always have to come back to the roots.
We need to strengthen grassroot community movements, because sustainable solutions can only come from the ground up. I will do what I can do and fight to save my home, my people, my mother earth.
Topics
Indonesia
Deforestation
LGBT rights
#MeToo movement
Trees and forests
features
Share on Facebook
Share on Twitter
Share via Email
Share on LinkedIn
Share on Pinterest
Share on Google+
Share on WhatsApp
Share on Messenger
Source:
Google Ne ws Indonesia
|
Netizen 24 Indonesia