'Hammers and a hoe': Indonesia keeps digging as official tsunami search ends Indonesia 'Hammers and a hoe': Indone...
'Hammers and a hoe': Indonesia keeps digging as official tsunami search ends
Indonesia 'Hammers and a hoe': Indonesia keeps digging as official tsunami search ends
Many may never find relatives swallowed up as the ground liquefied, but one woman says she will continue 'with hammers and a hoe'
Villages in disaster-hit Palu have been transformed into mass graves as Indonesian authorities halted official large-scale search operations on Thursday â€" with thousands still believed to be missing.
In the areas of central Sulawesi affected by the tsunami and 7.5-magnitude earthquake that struck less than two weeks ago, the decision has left people angry, distraught and anxious for closure.
Ade Irmayanti, 33,has been searching for her six-year-old nephew, Muhammad Gibran, in Palu since the disaster.
In Palu's hills, in the village of Balaroa, the six-year-old and his seven-year-old cousin, Sahdan, had called out to their grandmother, telling her they were going to a nearby stall to buy some snacks. That was the last anyone in the family saw of the boys.
Indonesia orders foreign aid workers helping with tsunami effort to leave Read more
Every day since, the family has searched high and low, erecting posters all over the city of Gibran, in his red and white school uniform. "You could say I have been to every hospital and every shelter in Palu and outside by now," Irmayanti told the Guardian. "I don't know how many, it could be hundreds."
There has been no news of Sahdan, but the family did get information that Gibran may have been evacuated to the southern city of Makassar so they are holding out a sliver of hope.
While Irmayanti has visited shelter after shelter for the more than 82,000 people displaced in the disaster, Gibran's father has worked with search and rescue teams amid the ruins of the village, directing an excavator to piles of concrete rubble where he believes the body of his son could be.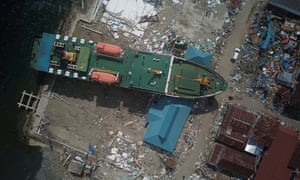 Irmayanti said "her heart dropped" upon hearing the news the official search ended on Thursday. "We will continue to look for him ourselves," she said, defiantly. "With hammers and a hoe."
Indonesia's national disaster agency has decided to halt large-scale search and rescue efforts, citing concerns over the spread of disease and the increasing difficulty of retrieving decomposing bodies from the mud and debris.
In areas such as Petobo and Balaroa, more than 3,500 homes were destroyed. Hit by a phenomenon known as liquefaction, entire swathes of Petobo were sucked into the earth and then sealed over with mud. The instability of the land and rubble, worsened by continuing aftershocks, has made the work of search and rescue teams a dangerous task.
The disaster agency sa id the areas would be cleared and eventually be turned into parks and memorials.
Thousands missing, presumed dead
The official death toll from the successive disasters has now topped more than 2,000, mostly victims of the tsunami that lashed the coastline of Palu and outlying areas such as Donggala.
Hundreds had gathered on Talise beach on the day of the disaster for the opening night of the Palu Nomoni cultural festival, a colourful event featuring traditional music, dance and rituals. Some fled after the quake hit but not everyone â€" tremors are not unusual in Palu â€" and there was no word a tsunami was on the way.
Even as the national disaster agency issued a tsunami alert from the capital, several thousand kilometres away in central Sulawesi there were no sirens on the beach, no official warning to evacuate and seek higher ground. Survivors say the first of three powerful waves hit within 10 minutes.
The morning after, the coastline was str ewn with corpses, but the complicated nature of the disaster, which entombed many in their homes in nearby villages, has obscured the true toll.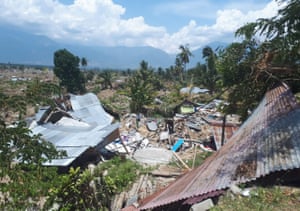 This week the disaster agency said that, based on reports from local village chiefs, there could be 5,000 people missing from Petobo and Balaroa, although these are yet to be accounted for in the official figures. With the search called off apart from some small-scale efforts, many could be presumed dead.
Officials say the focus will now be on relief operations, ensuring the thousands of displac ed and injured have basic supplies and medical care.
There is also talk that residents in upended villages will be relocated, although nothing official has been announced yet. Experts say some areas, such as Balaroa, were never suitable for development in the first place.
Overcome with grief, Irmayanti says the family can't think that far ahead yet. Their priority is trying to find Gibran, dead or alive. "What we want is certainty," she said, "If Gibran is alive, knowing where he is. And if is he dead, knowing where the body is."
Topics
Tsunamis
Earthquakes
Asia Pacific
Natural disasters and extreme weather
news
Share on Facebook
Share on Twitter
Share via Email
Share on LinkedIn
Share on Pinterest
Share on Google+
Share on WhatsApp
Share on Messenger
Source:
Google News Indonesia
|
Netizen 24 Indonesia