Indonesia arrests four for 'selling babies on Instagram' Indonesia arrests four for 'selling babies on Instagram' ...
Indonesia arrests four for 'selling babies on Instagram'
Indonesia arrests four for 'selling babies on Instagram'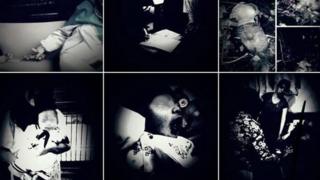 Four Indonesians have been arrested over an alleged baby-selling operation using Instagram.
An account which claimed to be a family welfare agency posted images of pregnant women, ultrasound scans and babies.
A telephone number was provided so potential buyers could make contact via WhatsApp, said police in Surabaya.
They said they managed to intercept one transaction but were still searching for at least one baby that was sold.
"People who want to adopt children use that account and the transaction is completed through WhatsApp," Col Sudamiran, Surabaya's chief detective, was quoted by Detik as saying.
According to news website Detik, the account was posing as a consultation service, offering to solve family problems.
The Instagram account, with more than 700 followers, features pictures of babies with their faces blurred out, along with details of their age, location and religion.
The account also features screenshots of alleged conversations between the operator and clients.
In one, a woman says she is seven months pregnant and does not want her family to find out.
In another post, a picture of a pregnant woman is shown along with details of her location. The caption of the photo states that she is pregnant and those who want to adopt can contact a telephone number that is listed.
None of the posts explicitly mention the buying or selling of children.
Police said at a press conference on Wednesday that they had arrested four people after intercepting a transaction that was due to have taken place on 3 September.
Mother Teresa homes in 'baby trade' probe
Couple sold son to paedophiles on dark net
India couple held for selling newborns
A 22-year-old woman, identified only as LA, had attempted to sell her 11-month-old baby, they said.
The buyer was due to pay 15m rupiah ($985, £750) to LA, 5m rupiah to a broker and 2.5m rupiah to Alton Phinandita, the alleged owner of the Instagram page.
All four allegedly involved in the transaction have been arrested and Mr Sudamiran said they could be jailed for up to 15 years for violating child protection laws.
Rita Pranawati, vice-chairman of the Indonesian Child Protection Commission (KPAI), a government agency, told the BBC that there had been cases of baby-trafficking before in Indonesia.
"But it's very rare to happen through Instagram. It's a new modus," she said.
While the motives of the buyers were not clear, Ms Pranawati said some people wanting to adopt may do so illegally if they did not fulfil the criteria to do so officially.
But she said there had also been cases before where children had been "illegally adopted for underage sex work".
Source:
Google News Indonesia
|
Netizen 24 Indonesia