Turnbull contradicts Morrison over Indonesia trip after Alan Jones interview Scott Morrison Turnbull contradicts Morrison over Ind...
Turnbull contradicts Morrison over Indonesia trip after Alan Jones interview
Scott Morrison Turnbull contradicts Morrison over Indonesia trip after Alan Jones interview
Prime minister says Turnbull will not be sent on 'more missions' after comments about potential embassy move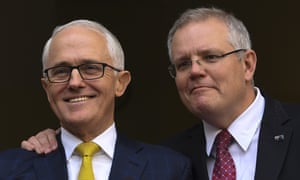 Malcolm Turnbull has swiftly and publicly contradicted Scott Morrison over what his brief was for a recent visit to Indonesia, hours after Morri son rebuked his predecessor on talkback radio.
Morrison on Thursday morning accused Turnbull of overstepping while representing Australia at an oceans conference in Bali last week, raising both a free trade agreement with Jakarta and a controversial proposal to shift Australia's embassy in Israel â€" two sensitive issues in the bilateral relationship.
Turnbull insists he was asked to discuss trade and the embassy issue, but Morrison, in a subsequent statement clarifying his comments, has described the arrangement more passively.
However, the prime minister appeared to backtrack on his radio comments on Thursday afternoon.
While acknowledging Turnbull's primary purpose in Bali was the oceans conference, Morrison said he was also briefed as the head of delegation about issues "that could be raised in any direct discussions with the [Indonesian] president, in his role as head of delegation".
Guardian Australia understands Turnbull and Morrison spoke at length on Sunday, before Turnbull's departure to Indonesia, workshopping what Turnbull should convey in relation to the embassy issue and the free trade agreement.
But Morrison on Thursday morning told the broadcaster Alan Jones "the issues of trade and other things was not really part of his brief". He also cautioned Turnbull against further public pronouncements, and said Turnbull would no longer represent Australia at international events.
The public dispute began shortly after Morrison's account to Jones. Turnbull took to Twitter immediately to contradict the prime minister's statement, including both Morrison's and Widodo's twitter handles in the tweet.
An hour later, Turnbull used social media again to deny he had stoked a public disagreement between the two.
Turnbull, at Morrison's request, met Widodo last week, after which he gave a thinly-veiled criticism of Morrison's decision to launch a "discussion" about the possibility of Australia recognising Jerusalem as Israel's capital by shifting its embassy.
Malcolm Turnbull to appear on Q&A in first major interview since Morrison became PM Read more
"The president expressed to me, as he has done to prime minister Morrison, the very serious concern held in Indonesia about the prospect of the Australian embassy in Israel being moved from Tel Aviv to Jerusalem," Turnbull said after the 30-minute meeting.
"There is no question were that move to occur, it would be met with a very negative reaction in Indonesia. This is, after all, the largest Muslim-majority country in the world. We have to be very clear-eyed about that, and we have to take into account Australia's national interests, and our interests in the region, when we consider a decision like this."
Speaking to Jones, Morrison said Turnbull would no longer be representing his government at international meetings and intimated he had overstepped his bounds at his Indonesia meeting.
"As a person who is allegedly an emissary, or was, of the government, have you pulled Mr Turnbull in and indicated that you don't support his repetition of the pronoun 'I' and he was there to represent the views of government , and the views he represented were in contradistinction to your own views as prime minister of Australia?" Jones asked.
Morrison said: "Well I got the report back, from his visit â€" he was there to actually attend an oceans conference, the issues of trade and other things was not really part of his brief.
"But that said, look, Alan, my view, and our government's view about these issues are clear. There're our view. That's what we're pursuing. And I am always going to act with respect to former prime ministers, regardless of who they are.
"But I do think the exemplar of previous prime ministers about how they go about things post or outside of politics is obviously John Howard and, on the Labor side, it's Julia Gillard.
"Now, I don't think there is a lot of profit, Alan, for me continuing to go over these issues. All I know … "
Morrison was interrupted and asked "will there be more missions for this man to be able to go through and spout his own discredited views?".
"Ah, no," Morrison said quickly.
"Right," Jones said.
Morrison was also asked about Turnbull liking a tweet that showed Morrison's personal popularity had fallen into negative territory for the first time since taking over the job. The prime minister said he was "aware of it, but I just brush it off, Alan".
"Good on you," Jones replied.
The conservative flank of Morrison's party room has not been silent in its disapproval of his decision to send Turnbull to Indonesia.
Tony Abbott led the charge, telling Jones's 2GB stablemate Ben Fordham last month before the meeting: "I've got to say, if I were the prime minister, I would have sent a minister to this conference because only a minister can really speak for t he government."
Turnbull was criticised by the same sector of the party for failing to do enough to publicly support the Liberal candidate, Dave Sharma, in last month's Wentworth byelection, where the independent Kerryn Phelps is likely to be declared the victor within days.
The loss of Wentworth will rob Morrison of his government's one-seat majority in the House of Representatives, six months out from when the next federal election must be held.
The ABC announced on Wednesday Turnbull will appear as the solo guest on next week's episode of Q&A.
Topics
Malcolm Turnbull
Australian politics
Coalition
Liberal party
news
Share on Facebook
Share on Twitter
Share via Email
Share on LinkedIn
Share on Pinterest
Share on Google+
Share on Wh atsApp
Share on Messenger
Source:
Google News Indonesia
|
Netizen 24 Indonesia