INDONESIA: It is in our interests to maintain relationship Advertisement To submit a letter to The Age, email letters@theage.com.au. Please ...
INDONESIA: It is in our interests to maintain relationship
Advertisement
To submit a letter to The Age, email letters@theage.com.au. Please include your home address and telephone number.

James Massola's analysis of the proposed relocation of the Australian embassy to Jerusalem carries commonsense and foresight ("If Jokowi has to choose, Australia will be the loser", 3/11). Indonesia is the largest Muslim majority country in the world. Indonesian Muslims are deeply religious and stand in solidarity with the Palestinians. They consider the Israeli occupation and violation of Palestinian human rights an abomination. Indonesia's GDP is increasing at more than double the rate of Australia's.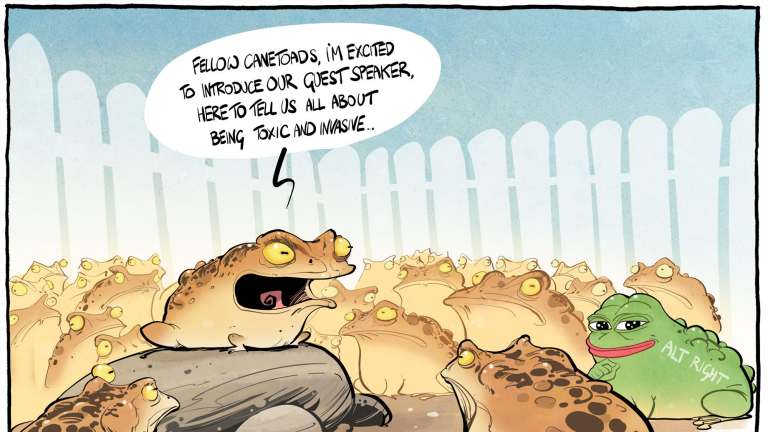 Within a few years, Indonesia will be economically and militarily more powerful than Australia. It is in Australia's interest to maintain good relations with Indonesia. No doubt that we can live without Israel; but we cannot live without Indonesia especially in the context of China's rising influence.
Bill Mathew, Parkville
Advertisement
Trade ties lessen memory of deaths
As Malcolm Turnbull cosies up to Indonesian President Joko Widodo (Insight 3/11), my thoughts go to two young Australians, Andrew Chan and Myuran Sukumaran and their senseless, politically motivated execution by an Indonesian firing squad, just a few short years ago. Shamefully, it seems that when trade is concerned, we have particularly short memories.
Jennifer Joseph, South Yarra
Australia, the lucky country
Australia is so fortunate to be receiving gratuitous advice from Indonesia on where it should or should not locate its emb assies and with which other countries it should or should not align itself.
George Greenberg, Malvern
A decision beyond comprehension
There is a presidential election in Indonesia next year and both candidates appear to be scrambling for the Islamist vote. Joko Widodo and his opponent Prabowo Subianto have chosen, as their running mate, characters whose views may be regarded as verging on the extreme by Western standards.
To fit in with this narrative, Israel bashing is now the "in thing" in Jakarta and the Jerusalem issue has proved to be most convenient for Joko. Why our Prime Minister and (presumably) the Foreign Minister would think this an opportune time to announce such a radical change in Middle Eastern policy is beyond comprehension.
Michael Stannard-Taylor, Mentone
A government held to ransom
Indonesian people smugglers are holding our government to ransom in ways they could never im agine. That the few (refugees languishing on Manus and Nauru) must suffer as a deterrent for the benefit of the many (future asylum seekers) is a discredited and cruel justification underpinning our border policy.
Nick Toovey, Beaumaris
Sir Humphrey would be proud
Did Prime Minister Scott Morrison, like his Senate colleagues before him in respect to the "OK to be White" issue, not read the briefing papers given to Malcolm Turnbull for his trip to Indonesia. It feels like we are living through reruns of Yes Minister.
Peter Roche, Carlton
Nation is not run by shock jocks
Why do politicians appear on the Alan Jones show where they allow themselves to be bullied and forced into making declarations to do Alan's bidding. In the latest example the Prime Minister was cajoled into denouncing Malcolm Turnbull for daring to speak about foreign affairs while in Indonesia. And it then turns out Malc olm Turnbull was correctly following instructions from Scott Morrison and detailed briefing notes he was given, thereby resulting in the PM having to retract the denouncement. When will they learn that Jones does not run this country?
Brian Glass, Montrose
FORUM
Chief judge replies
On October 29, The Age published an article entitled "Law fails in 20-year wait for justice in rape cases".
There is a public interest in exposing and correcting problems within the justice system. There is significant ongoing reform to improve the procedure for complainants in sexual offence matters.
While judges may be the subject of informed criticism, this article unfairly suggests that the court has contributed to an injustice.
It implies that Judge McInerney has acted, not in accordance with the rule of law, but in a manner which was biased against the complainants.
The article does so without reference to the judge& #039;s legal reasoning and makes a number of factual errors.
The article states that separate trials for three complainants were ordered "so the allegations . . . could be tested in isolation". In a considered ruling, Judge McInerney determined that the interests of justice required separate trials.
It states that Judge McInerney directed the jury to deliver a verdict of not guilty. That is untrue. In accordance with the law, the judge directed the jury that they had the option of entering an early verdict of not guilty. The jury did not take this opportunity.
It states that the jury was dismissed, even though they "wanted to go on". The law empowers a trial judge to discharge a jury where an accused person can no longer receive a fair trial. Judge McInerney found this to be the case and gave reasons.
It is for the prosecution to bring charges to court. It is wrong to suggest that the court's record keeping has somehow led to a fa ilure to prosecute.
Judges are among the most rigorously scrutinised professions. This occurs in the review or appeal court process, where the judge's reasoning is examined by reference to admissible evidence, established principles and case law.
An unsubstantiated attack upon the legal decision of judges, without any examination of their reasoning, risks undermining public confidence in the justice system. It may be read as a considered legal judgment, when it is not.
It is wrong to suggest because some people involved in the case were "dismayed" by one of the judge's decisions that this decision is somehow unlawful or biased.
Judges McInerney and Lacava, quite properly acted independently of all the parties, and sought to diligently apply the rule of law.
Chief Judge Peter Kidd, County Court of Victoria
Market forces
Ross Gittins (Comment, 3/11) has shone a light on how Australia's industries have become heavily concentrated. Heavily concentrated means that 30 per cent of a particular market is in the hands of the biggest four players. Factors that cause this include company mergers and acquisitions, but also breaching of competition and consumer laws by powerful companies. The end result is lack of competition. Since wages are related to competition, the industry concentration that is occurring now has negative consequences for employment and for consumers.
The issue of concentration of market power in the hands of fewer and fewer industries in Australia should, as Ross Gittins suggests, be a major issue to be addressed in the forthcoming election.
Leigh Ackland, Deepdene
Gatwick tribute
Thank you, Anson Cameron (Spectrum, 3/11) for the incredibly moving tribute to the former residents of Gatwick House and their remarkable saviours Yvette and Rose.
Gentrification comes at a tragic human cost.
Susan Mahar , Fitzroy North
Considered decision
I wonder how many people critical of the Bicycle Network's decision (in relation to helmets) actually read any of the information and submissions that was used in coming to this decision. This policy change came after months of research and is supported by most cyclists.
Robert Paterson, Mooroolbark
Greater needs
No disrespect to the National War Memorial, or the men and women who have fought for our country. However, surely that huge sum of money would be better spent on areas of urgent need, like health and education.
Katriona Fahey, Alphington
Look to children
The $500 million allocated to the National War Museum should be devoted solely to the care of the young people whose lives have been damaged by recent wars.
It is inappropriate to use it to put a gloss on wars called by middle-aged politicians, safe at home, on the basis of spuriou s justifications. This is aggravated by the fact that the regions involved have been even further destabilised and we feel no safer as a result.
John Poppins, Mount Waverley
Warne for CA
Shane Warne for Cricket Australia CEO. He has the plan and vision to see it through and has the former player's perspective to make it appealing to all.
Loucille McGinley, Brighton East
Peever is gone
CA must be in a bit of a bind these days for they can no longer "Leave it to Peever".
Ian Grandy, Mitcham
China factors
The exposure ("Living under lockdown", The Age, 3/11) of the human rights abuses by China, particularly of Muslims in Xinjian province, is most warranted and concerning. We should take into account in our economic dealings with China its appalling record of human rights abuses internally and externally and the fact that we are dealing with a one -party, one-president-for-life totalitarian government which regards democracy as an anathema.
We should not in our trading relationships become so dependent on China that it can exert leverage strategically and otherwise to the serious detriment of our relations with the United States and our liberal democratic values and system. We should take into account not only the economic benefits but also the political risks and take a long hard look at the Chinese system and not just the economic potentialities.
Steven Staats, Glenroy
Me, myself, I
To radio and TV presenters, journalists, reporters and all and sundry â€" please stop the incorrect and overuse of the word myself when 99 per cent of the time, "me" or "I" are correct and would suffice. You don't sound more educated or articulate when you use the word â€" just stupid. It's enough to make myself go insane.
Susan Merrick, Dingley Village
Under fire
Warwick McFadyen's article (Spectrum 3/11) is a bit too Anglocentric and dismisses too easily the Australian poets of WWI. What about Leon Gellert? OK, he didn't produce the same amount of great poetry as Wilfred Owen, but his best poems stand the test of time. As to McFadyen's assertion that "the poets of the Second World War do not go much beyond Keith Douglas and Paul Celan" is he kidding? Have a look at the Australians, Campbell, Slessor and Manifold, the Americans Jarrell and Eberhart, and the Europeans, Anna Swir, Yannis Ritsos and Rene Char. For a contemporary Australian poetic response to the centenary of the Armistice, it's worth checking out the new anthology To End All Wars.
Mike Ladd, Prospect, SA
Monopoly game
Peter Hartcher (Comment, 3/11) reveals our weakness. Monopoly behaviour. Perhaps each citizen could get a share of corporate profits that have been made by overcharg ing citizens. Let's call it tax, which can then be distributed by a central authority. Let's call it government. This would balance the surplus profits distributed to shareholders and the overcharged revenue paid by citizens.
Martin Baggott, Camberwell
Role of theatre
Since when did the theatre become, in the words of Jenna Price (Comment, 2/11), an "industry" and a "safe place" for lovers of the theatre? The role of theatre as an industry is secondary to its main function as art and no one knows this better than those who love the theatre and Shakespeare and sit on and pay for its seats, wanting performances from actors willing to explore unsafe places in the human psyche and condition.
Price does not speak for "all women" nor do "all women" expect to be bullied by her and told they are "as bad as the person offending" when they don't feel sad or angry for the current Hash Me-too reasons she finds so compelling. Perhaps this is why Zoe Caldwell's performance as Cordelia to Charles Laughton's Lear is still remembered? This great Australian actor wrote that she was able to turn the real tension she felt in the presence of her co-player to her own advantage as an actress in this role.
Patricia Wiltshire, Montmorency
Damn nature
Hey Scott Morrison, we know the sun doesn't shine all the time and the wind doesn't blow all the time. We also know it doesn't rain all the time, but humans figured out how to store this "intermittent" resource and maintain continuous water supply centuries ago.
Helen Moss, Croydon
Stumped
ABC radio will be the only means of following one day and T20 international matches following Cricket Australia's sell-out to Foxtel. Cheating and mismanagement are secondary crimes to this neglect of its loyal base, so many of whom are unable to afford Fox. The future of cricket will reflect this ruthless myopic neglect.
Jenny Lobato, Coburg
AND ANOTHER THING
Cricket
Arrogant players, arrogant association who think they run the game and an arrogant organisation who was running the game. Poor old cricket did not have a chance.
Bob Graham, Yarragon
If Cricket Australia's culture has been deemed to start at the top where does that leave the Department of Home Affairs?
Bryan Fraser, St Kilda
The Cup
Aaah, Cup week in Melbourne. Unlike Canberra where every week is Cup week.
Bruce Dudon, Woodend
I remind once-a-year punters of the cautionary adage, "There's many a slip 'twixt the Cup and the tip".
Max Horton, Adelaide
I hope that Julie Bishop's move to the backbench didn't cost her invitations to the best mar quees at Flemington.
Phil Lipshut, Elsternwick
Furthermore
Let's call a spade a spade and let's call Donald Trump Pinocchio.
Susan Daniel, Blairgowrie
To adapt a well-known saying: I might disagree with all your findings, but I will defend to the death your right to do the research.
Lindsay Zoch, East Melbourne
I remember a neurosurgeon referring to cyclists who didn't wear helmets as "temporary Australians".
Kit Penfold, Edithvale
Will the federal election date in May 2019 be known as Independents Day forever after?
Greg Tuck, Warragul
Is John "Tampa" Howard advising Donald Trump on how to wage a hate-filled anti-immigrant and refugee election campaign?
Tony Delaney, Warrnambool
Donald Trump and Scott Morrison playing the religion card days before crucial elections?
Ross Peck, Mt Helen
License this article
Loading
Please explain
Our weekly podcast giving you insight into the stories that drive the nation.
Listen now
Source:
Google News Indonesia
|
Netizen 24 Indonesia